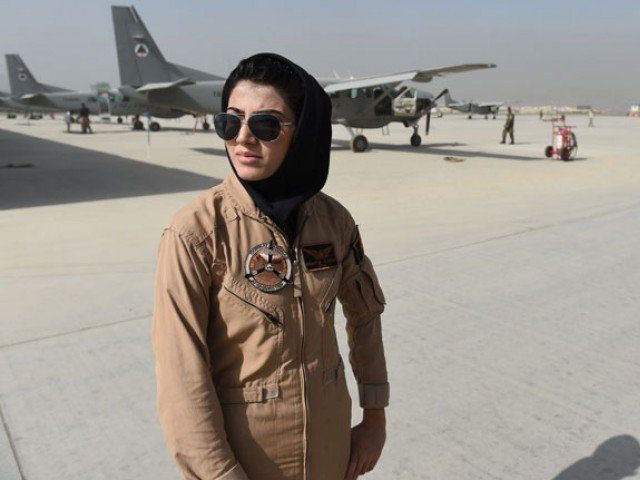 Aviatrix's attorney calls Afghan government's threatening reaction a vicious attack.
When Afghan Air Force Capt. Niloofar Rahmani arrived in the U.S. in Dec. 2015 to begin a year-long military training exchange program with the U.S. Air Force to build upon her fixed-wing flying skills, she knew something was off right away.
Her military salary ceased after she arrived in America for her 12-month flight school.
Her pay was simply canceled — with no warning and no official acknowledgement by the Afghan Ministry of Defence, or anyone else in the Afghan government, her attorney, Kimberly Motley, said in an hour-long telephone interview on Thursday, Jan. 12.
It's been roughly a month since her client officially asked the American government for political asylum following death threats by the Taliban and protests by so-called "activists" in the country's capital, Kabul, over recent weeks, as reported by media in Afghanistan.
Then came the slap in the face: Gen. Mohammad Radmanish, a spokesman for the Afghan Defence Ministry, said "she lied by saying she was threatened, just to win the asylum case," according to The New York Times.
He continued, "It is baseless that she claimed her life was at risk while serving in the Afghan Air Force. Since Captain Rahmani's claim is new, we expect her to change her mind and return to her own country and continue serving as a pilot … Captain Rahmani's life isn't at risk at all."
Motley, Rahmani's lawyer —  who has known the pilot for three years and has helped support her as she waits in limbo for the U.S. to make a decision on the request — said her client was remaining emotionally "strong" through the process, as diplomatic backchanneling plays out in Washington, D.C., and Kabul. The aviator, who has been allowed to achieve more than most women in her home country, has temporarily stopped giving public interviews due to the sensitivity and confidentiality surrounding the matter, which has gained worldwide attention. They are also not disclosing her location at this time as a safety precaution.
Motley said that heightened spotlight and negative fallout, in Afghanistan, is the fault of the Afghan government itself, who helped cultivate and foster the cultural public backlash in Capt. Rahmani's home country, where her family still lives.
"I think in the beginning it was a PR stunt for the government initially," the attorney, who takes on cases around the world and is the only Western individual licensed to practice law in Afghanistan, said. "But they have viciously attacked her because she is a woman and I think it illustrates that Afghanistan has a very, very long way to go in terms of positively progressing women's rights."
Women have very few rights in Afghanistan — they are often denied inheritance property; many cannot leave the home without a male escort, typically a family member or husband; can be convicted of subjective, so-called "moral crimes;" and significant numbers of Afghan women suffer serious physical abuses and violent attacks by mobs or their own husbands, even death.
In some cases, the Afghan courts hand out convictions with token prison sentences, but Afghanistan struggles with maintaining a firm rule of law. In some cases no one is convicted for the murder or mutilation of a woman.  The country is considered one of the most dangerous in the world for women.
According to an annual 2016 report by the Swiss-based Human Rights Watch, the United Nations Assistance Mission in Afghanistan, or UNAMA, "concluded that 65 percent of cases filed under (the elimination of violence against women law) that involved battery and other kinds of serious abuse were resolved through mediation, while only 5 percent led to criminal prosecution."
Despite the slow progress on women's rights in her own country and correlating grim statistics, Capt. Rahmani remains upbeat and "hopeful" officials within the Obama administration will approve the asylum request, according to Motley.
Defence Ministry officials in Afghanistan have also been quoted as saying she will go to prison for desertion when she returns, adding fuel to the fire, but also adding to the legitimacy of her claims in the process, justifying her case.
If her own government isn't going to protect her — or worse, is one of the multiple actors threatening her — who will?
Motley said she couldn't confirm whether they had or hadn't heard back from U.S. officials yet regarding the potential for approval.
"She has overwhelming, compelling evidence to support her case," the lawyer said. "And she wouldn't be the pilot she is today without the U.S. government. She wanted to do this thing — she was at the top of her class when she finished, bringing her career flying  hours to more than 1,000."
There is also concern as the U.S. transition of presidential power nears in the coming days, and with it President-elect Donald Trump's vocal campaign to bar Muslim immigrants from entering the U.S., temporarily, or from select Muslim-majority countries profiled based on their history for exporting terrorists, that Capt. Rahmani might get a chillier response to her request to stay in the U.S.
Rights Universal reached out to the Afghan Embassy in Washington, D.C. for comment on the situation with Capt. Rahmani.
Abdullah Khodadad, the director of press and public relations for the embassy, initially claimed not to know the whereabouts of Capt. Rahmani.
Lt. Col. Daryoosh Kabeer, on his fourth military training exchange program in the U.S. at the National Defense University in Washington, D.C., said that when he heard about Capt. Rahmani's decision to claim asylum he was disappointed.
"When this happened and I heard this news and it made me really, really upset … because we really need professional officers to come back and use their skills to help our country," he said by phone from Washington. "Maybe this lady has issues going on that I'm not aware of, but when you join the military — especially in a country like Afghanistan — you are expected to make a commitment to your country. My people are waiting for me and there has to be people to come back and help and serve our country."
He argued the negative media attention has lowered the morale of the Afghan military.
"I cannot speak on her behalf and I have great respect for America, but it is not my country and we have to work hard to make our own country stable," Lt. Col. Kabeer concluded. "if Afghanistan were a rich country like Saudi Arabia or the U.S. it would not be so important, but we are a poor country."