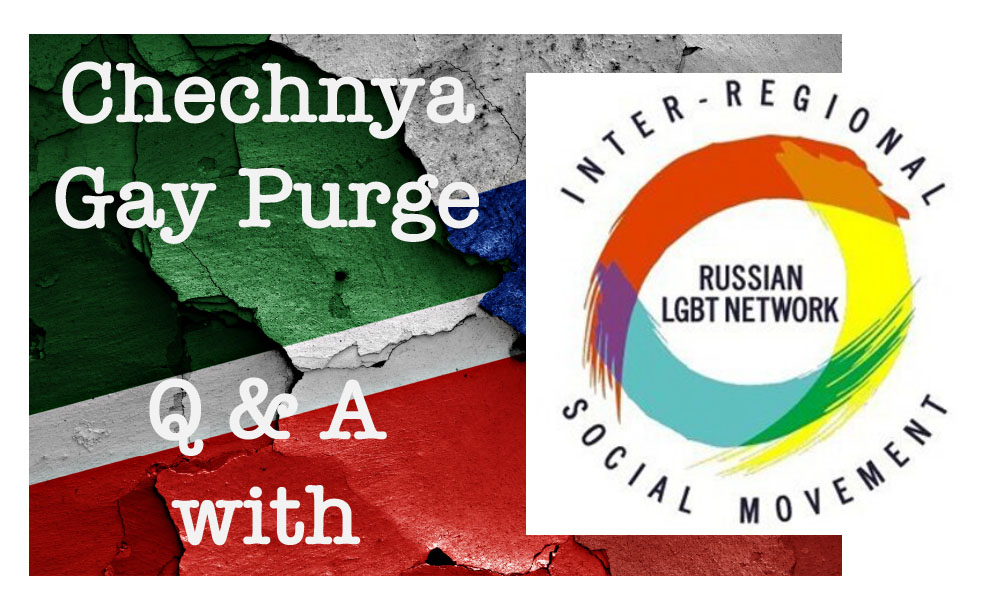 The Russian federal government opened an investigation into cases of abuse against gays in Chechnya last week after international pressure and media reports continued to expose the atrocities. The outcry follows a report by an independent Russian newspaper and activists that more than 100 suspected gay men in Chechnya were rounded up and tortured with electric shocks, beaten and starved by Chechen authorities. According to those reports, at least three men were killed.
Families are told to kill their gay children. One man was reported to have pushed his nephew who came out as gay from the ninth story of a building. Russian President Vladimir Putin initially backed Chechen President Ramzan Kadyrov's claim that the reports of abuse were false because Kadyrov believes there are no gays in his country, but the Russian investigation is a welcome shift for activists fighting for LGBT rights. Chechnya is a Muslim-majority Russian republic with a population of 1.3 million. Kadyrov, who once fought for Chechen independence, is now supported by Putin, partly for giving up secession aspirations.
Rights Universal reached out to organizations working with Chechen victims of the gay purge but these organizations said security concerns were so grave that only the activists working with the victims were made available to speak. And activists in Russia, where attacks against LGBTs are too common, didn't feel secure revealing their identity. RU writer Fariba Nawa spoke to a member of the Russian LGBT Network in St. Petersburg, the organization at the forefront of helping the Chechen victims.
RU: When did this alleged state-sponsored abuse of gays in Chechnya begin?
Russian LGBT Network: We don't know when it all started exactly. We started to check information with human rights defenders. Information was confirmed through many channels. We have a phone hotline and we got (online) letters. It started earlier in December 2016, some say, and others say it began in February or end of March.
RU: How many Chechens have reached out to you?
Russian LGBT Network: We've helped 80 people, mostly men but a few women. There's no government data on how many gays there are. The stigma is too huge in Chechnya. According to our data, there are hundreds of gays. And there are such cases where they're just accused because they look different. We will reveal stories when they're safe. Some of them are not going to talk about their past openly anywhere.
RU: What services can you give to those in danger?
Russian LGBT Network: When they're in Chechnya, the only thing we can provide is relocation after the first contact. We're trying to get them out. Some have already left the country. We don't discuss final destinations. They're scared. They don't know if we're going to help them or kill them. Many of them understand if they stay in (Chechnya), they may be killed.
Once they're out of Chechnya, we provide them with accommodation. They get psychological support. We get them documents to relocate to a safer country, if they don't have documents.
RU: How are the victims being identified as gay and arrested? And what happens after they are taken?
Russian LGBT Network: It's online communication, small circles of people who know each other. They hacked one account and they got access to many people at the same time. They (law enforcement) are coming to their homes, workplace, rounding them up and putting 15 to 30 people in one prison cell with drug addicts. They're humiliated, tortured, deprived of food and water. At first we thought it was just men but now we know it's also gay women. Sometimes relatives report them.
RU: How is it that some have been released and a few killed? Who gets to live?
Russian LGBT Network: At one point, some were released when they shared contacts of other gays. In some cases, they were released to relatives, but it's expected that relatives will kill them or tell them to leave. There are honor killings of gays in Chechnya. No one would fake being gay because they could be killed just for being in contact with us. Once they're out of prison, there are no official borders between Chechnya and Russia. They may be able to get out unless they're detained again.
RU: What can people outside the Russian Federation do to help? There have been fundraisers and money's coming in internationally.
Russian LGBT Network: Money's not the only option. Visa issues are really difficult. We would like people to influence their government to provide visas for these victims. These are refugees. We encourage people to ask about what's going on in Chechnya with gays and bring more attention to the issue with their government representatives.
RU: Is it correct to say without that international pressure, there would not have been an investigation launched? When are the results of this federal investigation expected?
Russian LGBT Network: It was only with international pressure, finally, that the Russian authorities started to do something. In Chechnya, it's pointless to ask the local government to be (watchdogs). The Chechen prosecutor has announced to launch an investigation as well. But even with these federal investigators, we don't know what's going on. There's no transparency. It could take a lot of time to know what's happening, months, even years. And it's too dangerous for independent investigators right now.
RU: Even when these Chechens come to bigger Russian cities, they're not safe, you say. What's it like to be gay in St. Petersburg?
Russian LGBT Network: In general, it's difficult. I can be gay and St. Petersburg is one of the most tolerant cities, but I don't tell my neighbors. I live with girlfriend.
In some parts of Russia, people can be beaten for looking different. LGBT activists are beaten. There's state-sponsored homophobia, activists are shown as perverts to society.
There was a federal "Propaganda Law" passed in 2013 that gave impunity to treat LGBTs as second-class citizens and (inadvertently) legalized violence against us. It was passed under the guise of protecting minors from homosexual propaganda, but now it is used to prevent us from having public events.