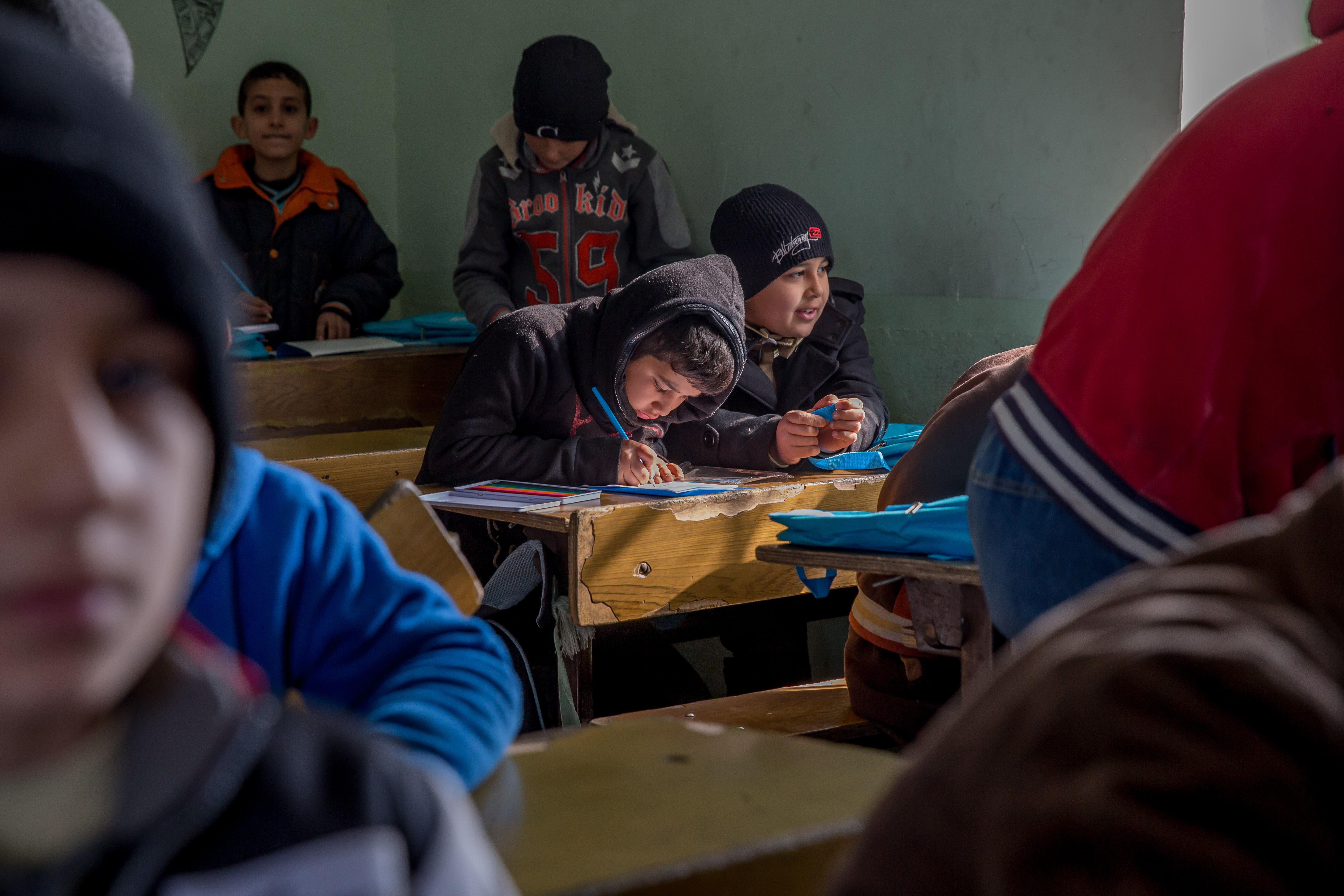 Though ISIS was ousted from much of the northern Iraqi city, its western neighborhoods are still a battle zone.
Kids like Ahmed, Sujood and Noor never asked to be caught in the middle of a war. They fled Mosul with their parents when the Islamic State stormed into Mosul, taking it from the Iraqi government. They were caught on the wrong side.
More than two years later, things are starting to change.
"Today I feel like I'm back to life," Ahmed told aid workers with the UN's children fund, UNICEF, recently.
The UN reported this week more than 30,000 people have returned to Iraq's second largest city since the country's security forces began its offensive against the Islamic State in October, allowing for some sense of routine for school-aged children, who have been inculcated with ISIS ideology for the last two and a half years.
Bringing them out of that brutal mind warp will take time and healing. Many young boys were already indoctrinated into ISIS jihadi teachings. All children were exposed to hyper-violent events under ISIS rule.
In parts of the city's east, along the Tigris River, some school classes have resumed – though teachers by and large work for no pay, waiting for the government to issue salaries. Meanwhile, a siege is still playing out in the western half of the metropolis, where some 750,000 Iraqis previously lived. Now displaced, they are caught on either side of the fighting.
"In East Mosul, where the Iraqi forces are now in control, the situation has changed significantly," Sharon Behn Nogueira, an aid worker for the UN's children fund, UNICEF, told Rights Universal by email from Iraq recently.  "Children are in the street, some are out playing football. There are people going shopping in the markets. Going to school now is an important part of normalizing children's way of life, and they are excited about the prospect of school, to meet their friends and resume their future."
But she was quick to temper the positive developments with caution.
"That is not to say East Mosul is completely safe – it is still sensitive in places, because ISIL still controls the West side of the city across the river," she said.
Mosul was once a thriving metropolis. Even during the American military invasion, its 2.5 million functioned around the dysfunctional daily routine of roadside bombs and pitched battles. Then the Islamic State took it in 2014, according to media reports and aid agencies on the ground, fracturing the city and leaving its conflict-weary residents victim to the Da'esh occupation, as Iraqis refer to the Islamic State. Divide and suspicion have taken root among many of the city's myriad sects and ethnicities.
Getting the children into a place where they can be themselves again – kids – is paramount, Nogueira said. She went on to say UNICEF is supporting the Iraqi government in setting a school schedules, with regular classrooms and regular curricula.
"One hundred days ago, the city was under the total control of ISIL," she emphasized. "After 100 days of conflict 16,000 children in East Mosul are now back in school, and it was by popular demand. UNICEF is supplying math kits, science kits, notebooks, backpacks, teacher training material and recreational material."
Still, lessons are reported to be punctuated with the sounds of artillery explosions as the country's security forces dig deep to drive the extremists from their positions.
New fighting threatens the positive gains, leaving observers worried the Islamic State could stage a return and further displace 250,000 Iraqis from their homes, according to the UN's refugee agency. But documents recently recovered from Islamic State positions overrun by Iraqi forces indicate the group's foreign fighters don't have the stomach for the long haul, reports The Washington Post.
"He doesn't want to fight, wants to return to France," said an ISIS commander commenting in one document, referring to a 24-year-old listed as a French resident of Algerian descent, according to documents reviewed by the Post. "Claims his will is a martyrdom operation in France. Claims sick but doesn't have a medical report."
That would be just fine to children like Ahmed, 10, Sujood, 7 and Noor, 9.
"I thought we'd never be able to come back to school again," Noor told UNICEF staff.
Nogueira, the aid worker with UNICEF in Iraq, said the structural state of schools is iffy – some are still in good condition, she reported to Rights Universal. But she admitted many others are mined, a sick calling card of the Islamic State as they retreat, leaving danger to linger in places where they've been driven out.
She said they are trying to get as many schools opened as quickly as possible, but they have to take the children's health and security into account also. It can't be rushed – each school has to be cleared by Iraqi security forces and then properly opened.
It's a time consuming process. But it's an urgent priority, Nogueira said.
"Regular education gives children structure, a routine, and the start of the normalization of their lives," she said. "For the teachers, they return to teaching and can start to get their salaries. We also are working with the ministry on 'catch up' education programs, so that children who have missed classes can come on par with their peers."